NCB builds Camana Bay's first for-sale residential community
July 19, 2018
This article first appeared on Cayman Compass.
NCB and Dart Real Estate partner to create a new walkable, sustainable community of 124 residences and unrivaled amenities in Camana Bay. The Town's first for-sale residential community features award-winning features such as a resort-style pool, yoga green and the island's only lazy river.
Dart Real Estate and NCB Group on Thursday announced they have entered into a joint venture partnership to develop the first residential properties for sale in Camana Bay.
Camana Bay, which celebrated its 10th anniversary in November 2017, already has residential properties for rent, but not for purchase. Initial construction of the new residences is scheduled to begin in the first half of 2019.
Dart and NCB Group will partner to build the development, which will be located south of Camana Bay's Town Centre and adjacent to Cayman International School. The school will be expanded to double its capacity to 1,100 students by 2020.
"We look forward to collaborating with NCB Group to meet the demand for residential offerings in Camana Bay," said Jackie Doak, president of Dart Real Estate, in a press release. "This project is another example of the Town Centre's growth as it continues to cater to those who want to live and work in an amenity-rich community that provides connectivity to the world-class Seven Mile Beach."
The residential development is expected to offer living spaces ranging from one-bedroom condominiums to four-bedroom townhouses.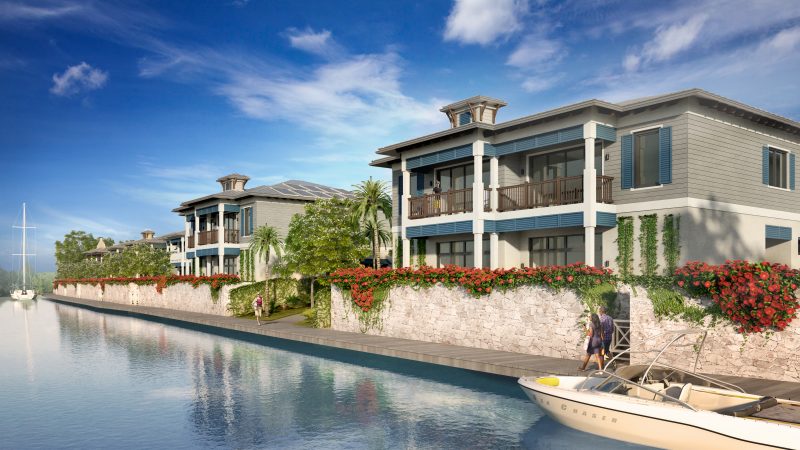 TRIO Architecture, a local firm, has been selected to design the project.
The sales campaign for the new residential development is expected to commence in the fourth quarter of this year, the companies announced.
"We are excited to partner with Dart Real Estate on this innovative and much-anticipated residential community at Camana Bay," said Matthew Wight, managing director of NCB Group.
NCB has been developing homes and communities of distinction for more than 17 years in Grand Cayman, and we are committed to building with the Cayman Islands' future in mind. We are fortunate that Dart Real Estate shares this same commitment and look forward to delivering a successful, quality development to the wider community.
Other development work is already under way at Camana Bay. Foster's broke ground on a new supermarket at the site in May, and the 60,000-square-foot facility is expected to be completed by November 2019.
"As the Camana Bay community continues to grow with the expansion of CIS, construction of the new Foster's  supermarket and a planned five-star resort, a joint venture agreement with NCB Group further diversifies the development of the Town Centre at this important juncture in Camana Bay's history, with its first for-sale residences," said Justin Howe, Dart's senior vice president of development.