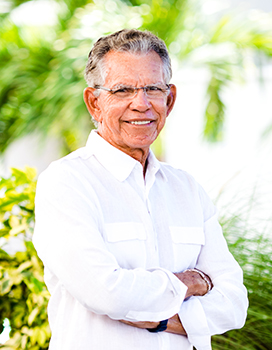 Naul Bodden
Naul Bodden is the President and founder of NCB Group. He was born in the Cayman Islands in 1950 and attended elementary and high school here. He attended William Carey College in Hattiesburg, Mississippi and obtained a Business and Accounting Degree with Honours in 1973. He obtained his Certified Public Accountant Certificate in 1978 and by doing so became the first Caymanian to possess this qualification. He became a Partner of Arthur Young in 1980 (which later became Ernst and Young) and remained a partner for 19 years before retiring from the firm in October 1999. Whilst at Ernst and Young, he was the Director of auditing and was responsible for the Bank and Trust sector, Mutual Fund sector and a significant number of consulting/corporate finance engagements.

He is a shareholder and Director of a diverse number of local companies and is also one of the major property developers in Cayman and has developed projects totaling over $120 Million.

He is also currently a trustee of the National Recovery Fund, and a past Director of the National Gallery. He was recently recognized as the outstanding Alumnus of the year by William Carey College and as one of the ten Pioneer Entrepreneurs that helped shape the Cayman Islands. He is a past President of the Cayman Islands Society of Professional Accountants, past Chairman of the Immigration Board and the Cayman Islands National Museum. He has been a guest speaker at International Conferences in the area of auditing and entrepreneurial services.